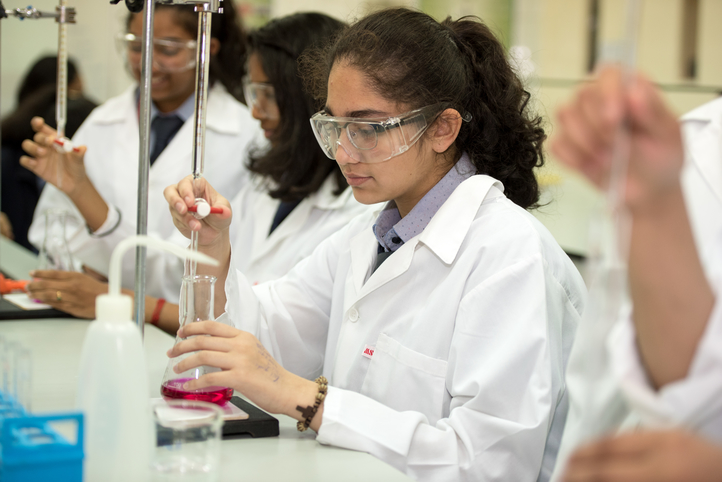 Infrastructural Facilities
INTERACTIVE BOARDS
Every classroom at Diyafah is installed with an interactive board, an assistive technology tool used to enhance the teaching-learning process. It has helped to transform instruction and has lead to an increase in student participation.
LIBRARY
The senior school library is well stocked with reference and fiction books. Adequate provision in the time table ensures regular use of the library. Students are allowed to borrow books from the library. Two trained and qualified librarians maintain the library.

Students from Kindergarten to Year 4 benefit from their class libraries. This facility enables teachers to inculcate a love for reading among students and also develop their reading skills. Teachers also use this facility to enhance their classroom teaching.

SCIENCE LABORATORIES
Fully equipped Physics, Chemistry and Biology labs facilitate pupils to acquire investigative skills and develop scientific enquiry.
COMPUTER LAB
Separate Computer Labs are provided for Primary and Secondary classes. The computer labs have all the software required for academic purposes. Hardware and Software is continuously upgraded to cope with the latest technology and trend.
MUSIC and ART
Music is part of the school curriculum till Year 8. Students are taught to create art work using different media and are exposed to different styles until Year 9. Art and Design is offered as a subject option at IGCSE, AS and A levels.
CLINIC
A fully equipped clinic with a doctor and three resident nurses is on campus. To ascertain proper growth and health of the students, periodical medical check-ups are carried out. First-aid facilities are always available to the students and if additional medical aid is required, emergency transport is available to rush the pupil to the hospital.
A PRAYER ROOM
is available in the School.
CANTEEN
The Canteen is clean and well stocked with healthy snacks, drinks and juices, as permitted by the Ministry.
PLAY GROUND
BOTH OPEN AND CLOSED- A spacious and well maintained play ground for basketball, football and other games exists.
TRANSPORT
Transport has been out-sourced to "Al Jaziri Transport". The school transport department personnel work closely with the provider to ensure the safety, security and comfort of students. Transport facility is available for the students on approved bus routes. In each vehicle, a conductor ensures the safe boarding and return of every student.
UNIFORMS
Uniform instills a sense of community among the students. We belive that wearing a school uniforms is important in developing a sense of community and belonging. Our students take pride in wearing their uniforms which have been designed to be suitable for the climate.
COUNSELLOR
Guidance and Counselling support is provided to students at the primary and secondary level. The objective of the counseling team is to mould a child into a confident, independent, emotionally stable, socially committed and well adjusted individual. Our support services also include career guidance and early intervention to students with varying developmental difficulties.